Sheepwalk House
We have 0 bed vacancies at the moment
Overview
Contact/Directions
Downloads
Sheepwalk House is a six bed spacious residential home. Situated in the popular village of Ravenshead in Nottinghamshire, in Robin Hood country. It boasts a fantastic garden over a third of an acre with mature shrubs and a variety of woodland trees. Just 100m from the bus stop and 5 miles from the train station, Sheepwalk House is situated close to Nottingham with good travel links.
With a 12 foot trampoline, traditional wooden swing, two basketball nets and wooden robust picnic benches, there is plenty to do outdoors. Inside offers a fully equipped art and craft room with painting supplies, beads, sewing and activity box, as well as an activity room with swinging chair, jungle mural, sensory lights, floor cushions, mood lighting and glow in the dark stars.
The people we support living on site are adults, with a diagnosis of ASD, with moderate to severe learning disability and additional severe and complex needs.
The Registered Home Manager is NVQ5 qualified and has a wealth of experience in working with people who demonstrate complex health and behavioural needs and is a MAPA® Trainer.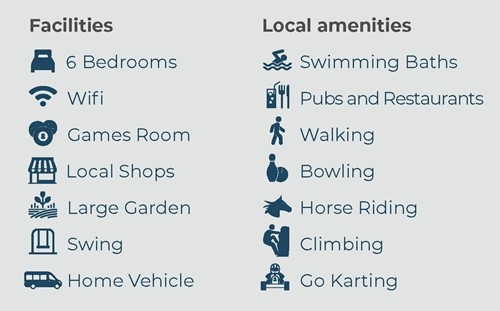 Contact
Mary Haywood (Registered Manager)
Email: enquiries@creativecare.co.uk
Sheepwalk House
39 Sheepwalk Lane
Ravenshead
Nottingham
NG15 9FD
Tel: 01623 797074