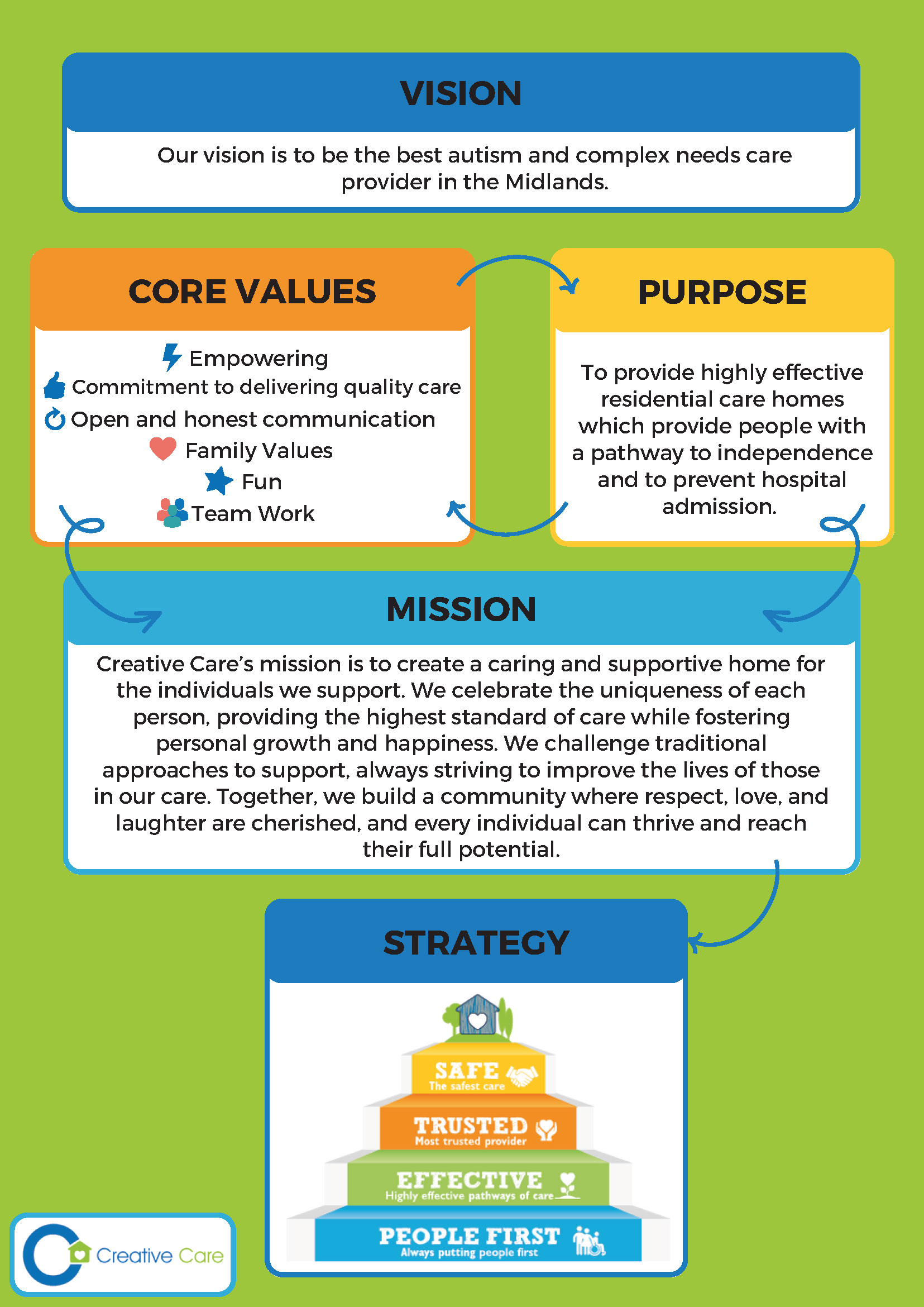 Our Vision
BRINGING OUR HOMES AND SERVICES TO LIFE
Creative Care has provided highly effective residential care for individuals with autism and complex needs since 2005.
Our vision is to be the best autism and complex needs care provider in the Midlands.
Creative Care has four strategic priorities:
1.SAFE
We offer the safest care for individuals living with autism or complex behaviour. One of the biggest challenges for individuals, commissioners and family members is being reassured that the care provided is safe.
Creative Care takes safety very seriously and does everything in its power to prevent people from receiving unsafe care and treatment.
Our Evidence:
- Values-based recruited staff with accredited training and development to ensure they have the qualifications, competence and skills to keep people safe.
- Our innovative Positive Behavioural Support (PBS) strategy focuses on quality of life and well-being to reduce risks and deliver positive outcomes.
- Highly experienced and qualified senior leadership team supporting the homes.
- Approved Crisis Prevention Institute (CPI) centre for delivering Management of Actual or Potential Aggression (MAPA).
- Independently audited and supported by an ISO QMS International accredited health and safety provider.
2. TRUSTED
We are one of the most trusted providers of autism care. The Transforming Care programme will mean that fewer people will need to go into hospital for their care but there is a significant lack of good quality homes for autism and complex needs.
Some people are considered too challenging for residential settings. Creative Care's niche, since 2005, is a very clear objective to offer a trusted environment to complex individuals that previously have struggled to find a home.
Our Evidence:
- Feedback shows staff, families and commissioners trust Creative Care to provide homes where they would be happy to have their loved ones living.
- Reliable homes where individuals' views and wishes are heard and met.
- Proven track record in supporting people with autism and associated complex needs since 2005.
- Approved by Nottingham County Council as a specialist residential autism provider.
3. EFFECTIVE
We deliver highly effective pathways of care. In 2015, NHS England publicly committed to a programme of closing inappropriate and outmoded inpatient facilities and establishing stronger support in the community – overall, 35%-50% of inpatient provision will be closing nationally by 2019.
 
Our investment in Wellbeing & Positive Behaviour Support programmes provides an evidence based system to demonstrate a wealth of benefits culturally and financially.
Our Evidence:
- Effective and experienced leadership team.
- Individuals and families are fully involved to make choices in their care delivery to ensure it effectively meets their needs.
- Creative Care has an emphasis on enablement and empowerment of individuals to move on to more independent living.
- Our homes work in partnership with Multi-Disciplinary Teams to ensure effective and person-centred care delivery.
- We are an accredited learning centre by ASDAN which supports young adults to develop knowledge and skills for learning, work and life.
- Creative Care is a member of Optimum Workforce Leadership.
4. PEOPLE FIRST
We always put people first. People with autism and who display behaviour that challenges are a highly diverse group. The task of reshaping services needs to reflect this.
 
Creative Care has embarked on a comprehensive and aspirational system wide PBS development programme and strategy. Our unique model focuses on quality of life and well-being and enables us to measure outcomes and happiness.
Our Evidence:
- Individuals are supported with a personal activity plan that reflects their interests and opportunities to try new and exciting skills to enable them to become more independent.
- Person centred care that is developed in conjunction with the individuals we support and their families.
- Staff are carefully selected, to support the people in our care – whether it's a difficult, sad or happy time.
- The service users have their own forum and produce a regular newsletter.